Event Calendar
Conversations with Caregivers
Wednesday, November 29, 2017 10:00 am - 11:30 am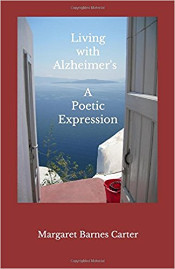 Location:
Linda and Lou Mazawey Education and Support Center 3953 Pender Drive, Suite 100, Fairfax, VA 22030
Description:
Join us at Insight for Conversations with Caregivers! These sessions provide opportunity for learning and open discussion with local authors on topics of interest for caregivers of a loved one with dementia or a related memory impairment. Come for a great morning of conversation!

Join us for a conversation with Margaret Barnes Carter, author of "Living with Alzheimer's: A Poetic Expression."

Living with Alzheimer's is a collection of poems that explore the experience of living with Alzheimer's Disease. She states, "These poems were written so those who do not have Alzheimer's can know what it feels like to us." Margaret Barnes Carter has been a writer and teacher all of her life. She has a PhD in Learning Theory from Old Dominion University. She is married to Roscoe O. Carter and has three grown children and four grandchildren. in 2015, she was diagnosed with early Alzheimer's.

Registration is required as only 25 spots are available. Many thanks to our Book Sponsor Eden Homes/Larmax Homes. All attendees will receive a copy of Living with Alzheimer's!
This form stopped accepting submissions on November 29, 2017 10:00 am EST.