Event Calendar
Conversations with Caregivers
Wednesday, May 31, 2017 10:00 am - 11:30 am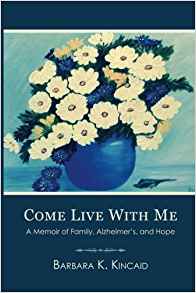 Location:
Linda and Lou Mazawey Education and Support Center 3953 Pender Drive, Suite 100, Fairfax, VA 22030
Description:
Join us at Insight for Conversations with Caregivers! These sessions provide opportunity for learning and open discussion with local authors on topics of interest for caregivers of a loved one with dementia or a related memory impairment. Join us for a great morning of conversation!

Join us for a conversation with author Barbara Kincaid, to discuss Come Live with Me: A Memoir of Family, Alzheimer's, and Hope.

In a deeply personal and heartfelt memoir, Barbara K Kincaid recounts stories from her experience as a caregiver for her mother as she battled Alzheimer's. Offering hope, encouragement, and sympathy, Ms. Kincaid reflects on an all-too-familiar experience for many families throughout the country. With moments of heartbreak and moments of laughter, "Come Live With Me" is touching memoir not to be missed by anyone who has felt, either directly or indirectly, the devastating affects of Alzheimer's disease.

Come Live with Me is based on Barbara's fifteen years as a student of Alzheimer's and family caregiving. She also has a personal connection to Insight; her mother attended the day center as a participant!

Registration is required as only 25 spots are available. Many thanks to our Book Sponsor: The Medical Team. All attendees will receive a copy of Come Live With Me!
This form stopped accepting submissions on May 31, 2017 10:00 am EDT.